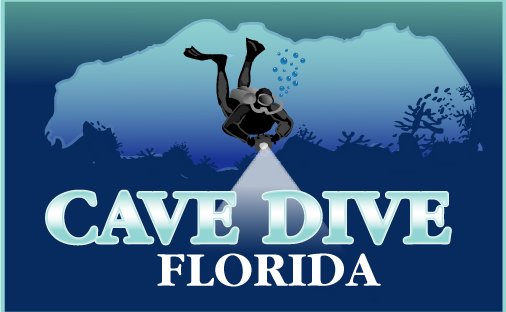 INTRODUCTION TO CAVE DIVING
Prerequisites

Cavern diver certification.
Minimum of 25 logged non training dives.
Minimum age 18.

Classroom work/Academics

Approximately 6 hours of classroom work. Lectures from a prior cavern course MAY be credited at the sole discretion of the instructor.
Review of medical aspects, dive tables, use & misuse of dive computers.
The cave environment, cave diving techniques including buoyancy control & body positioning.
Communication, accident analysis, and emergency procedures/situation management.
Recognition of potential stress/emergency situations.
Psychological aspects of Cave diving - these include stress, attitude, awareness, reaction to & building tolerance to stress in self & others, stress management & philosophy.
Cave conservation
Guide lines & guide line techniques - Reel usage.
Dive planning and gas management.
Equipment and equipment configurations.
Inert gas narcosis & physiology.
Cave referencing & navigation.
Philosophy of SAFE cave diving

Land drills

Proper use of guide lines & reels.
Techniques for following guide lines.

Touch contact procedures.

Lost Line / Lost diver drills.

Use of line markers.
Confined water Skills
Following a guideline with blacked out mask or loss of visibility.
Sharing gas, first with vision, then with eyes closed.
Touch contact - may be incorporated with gas sharing.
Following a guideline without a mask.
Reel usage.
Proficency with modified flutter kick, shuffle kick, modified frog kick while maintaing correct cave position & buoyancy control.
Cave Dives
Students earning certification will show satisfactory performance in ALL skills listed. Students will complete a minimum of 4 cave dives and at the instructors' discretion an open water evaluation dive. Students using double tanks will use 1/6 air rule. After certification at this level students are only qualified/certified to dive in single tanks.
Bottom time for dives is minimum 20 minutes.
Cave dives will be conducted in at least 2 diferent entrances.
I will attempt to show you different cave configurations as well as varying volumes of flow.
Equipment checks & "S" drills are to be performed prior to every dive.
The 4 dives are a minimum.
Skills to be performed in the caves
Proper finning & propulsion techniques.
Proper body positioning & buoyancy control.
Use of reel & guideline.
Touch contact.
Gas sharing.
Communication with light & hand signals.
Cave familiarization.
Use of line arrows.
Lost Diver procedures.
Lost Line procedures.
Stress detection & management.
Cave conservation & techniques.
Simulated Emergencies:

Sharing gas while exiting the cave.
Lost visibility, touch contact, team line following.
Lost visibility, out-of-gas, touch contact line following as donor & receiver for a distance of at least 100 feet.
Diver lost from line/team.
Broken/lost line.
Primary light failure - exiting on smallest a backup.
gas valve management. Diver practices turning off/on valves simulating various regulator/valve failures.

All drills will be conducted during the exit-No life support gear will be removed during these simulated emergencies.
Divers must concentrate of developing awareness of team members and the guideline. Divers must demand good technique for the safety and efficiency of thr other divers and self as well as for preservation of the cave environment.
Program Limits
Dive #1 600 feet penetration. All succeeding dives no penetration limit - max depth 100 feet.
1/3 gas rules for divers on single tanks. 1/6 gas rule for divers on doubles.
Minimum starting visibility 30 feet.
Minor restrictions are OK-no major restrictions.
These 4 dives are a MINIMUM.
Minimum Equipment

Minimum 80 cubic feet gas with dual outlet valve. (may be rented from Jim)
Power fins with spring straps - or conventional straps taped.
7 foot hose.
Two single hose, HIGH PERFORMANCE regulators. These must have been serviced in the past 12 months or less.
Power inflator.
SPG.
Back plate & wing HIGHLY reccommended.
Octopus inflation system is not allowed.
Small knife or cutting device.
Primary light(may be rented from Jim) & 2 backups.
Dive tables - computer HIGHLY reccommended.
If no computer you must have a timing device and a depth gauge.
Line arrows
Appropriate exposure protection. Water Temp here is from 64-72° F. I dive dry.
DAN or equivalent diver protection insurance.
Cave diving is a very demanding & gear intensive pursuit....your life, and perhaps mine depends on your gear. Choose your gear wisely.
If you have questions about gear choices call me. If you need to purchase gear let me know - we can take care of that for you as well.
Also please note: Most Local Dive Shops do not have a clue what is suitable gear for cave diving. Some will sell you gear that has no place in a cave. Call me in advance of gear purchases.
Call Jim at 352-363-0013

E-mail Jim@cavediveflorida.com